Leaders in the size reduction and plastics market, Granutec exceeds customers' expectations by providing top of the line machinery paired with expert technical support.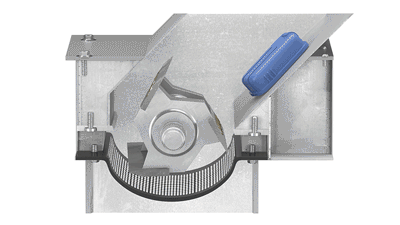 CUSTOM ENGINEERED FEATURES
Removable Hardened Wear Plates
Granutec equipment comes with removable hardened wear plates to extend the granulator cutting chabler knives
Feeding Versatility
All Granutec equipment can be custom engineered with feeding versatility with rear feed chutes, feed roll systems, sheet chutes, and special feed hoppers
Five Blade Rotors
More rotors provide more cuts per revolution, which increases production rates
Sound Saver Packages
Sound saver packages provided for soundproofing the hopper and cabinet with 2 3/8" thick double wall construction
Zero Speed Switch
Granutec keeps your safety in mind with a zero speed switch to sense loss of rotor RPM and shut equipment down when necessary
Life Extending Engineering
"Granutuff" knives and water cooled chambers can be custom engineered in order to extend the life of your machinery
Whether you are looking for a degausser or you're just not sure what solution will fit your businesses needs, contact us today for a free price quote!
Customization For You
At Granutec, we understand that each application is unique, and each client has a different need for special features built into their machines. We accommodate your needs by having a wide range of custom features.
Granulator Accessories
All components of our grinders are available as individual accessories for upgrading your existing equipment, and replacing parts to improve performance and efficiency.
Knives, Screens, & Parts
We stock many different types of granulator knives, screens, and parts. Our high quality supplies are guaranteed to meet the demanding needs of your material recycling.
Service & Repair
Our service department is built on a flexible, helpful, and timely philosophy of response and action. We ship all stock parts the same day as they are ordered, and custom parts are available for special applications.

Customer needs and wants are top priority here at Granutec, and we will work with you to create a system […]